DREAMS AND MEMORIES
Jeff Dillon's paintings mix reality with magic.
Grand Magazine 10 May 2015 By Barbara Aggerholm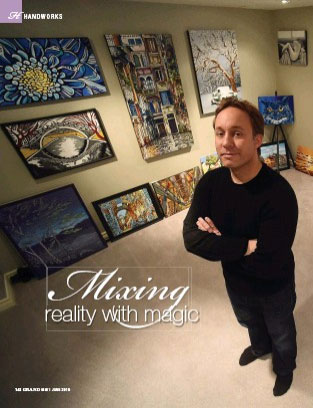 AS A TEEN, artist Jeff Dillon would spray a mist of water around his room and quickly close the door.  His bedroom was filled with at least 100 plants, so much greenery that it was like a tropical rainforest.  "I grew corn in my bedroom," says Dillon, a soft-spoken, energetic man. "I had vines I stapled to the ceiling." He used his desk, not for homework, but to pot plants. Aquariums were filled with fish and newts. His sister's budgie liked to fly around the room.  Watering the jungle was a major task, and spraying helped.
Today, Dillon has 40 plants in his Kitchener condominium, located on a road edged by farmers' fields and woods.
A freshly cleaned aquarium with koi fish sparkles in the living room. Dozens of pressed tree leaves in frames – a project from his college horticulture program – cover the wall leading upstairs to a bedroom with large windows. Spice racks holding Golden fluid acrylic paints, his favourite because of their intensity, are on the wall beside his easel.
This is where Dillon, 39, paints his love of the outdoors, of lush greenery, of vivid colour, travel and adventure. Some see Emily Carr or the Group of Seven in his landscapes where "nature is taking over." Admirers like the energy of his skies, the light that emanates from the windows of his cityscapes and through the trees of his landscapes.
They especially like that they can place themselves in a painting, whether it's on the porch of a cabin during a lightning storm or on the street of a European city with red, green and yellow building fronts.
"It's like looking through a window," says Catherine Malvern, library manager/ executive director of the Waterloo Region Law Association. Dillon's art has been exhibited in the libraries of the former Weber Street courthouse and new Waterloo Region courthouse in Kitchener.  Visitors to her office comment on the glowing cityscape painting that Malvern bought from the artist. "People always say: 'that looks like Switzerland' . . . or 'I think I was there in Amsterdam,'" she says.
"His work is so unique and animated. . . .It takes you to the place."  Dillon's art is meticulously painted, punctuated with bold swirls of colour. The paint brush he uses most often is small, about the size of a pen. It's for building, shading. A larger brush is reserved for the sweeping skies. He starts with a black outline.  More than the influence of other artists, Dillon says he's affected by his experience as a child in a family that moved frequently. It fueled his love of travel and languages (he's learning Italian following a recent trip to Italy with his girlfriend). He especially likes Europe where he was "blown away" by the colour.
About four years ago, he traveled throughout England, Wales, Scotland and Ireland, where his father's family originated. "I am heavily influenced by Europe and their use of bold colour and style in their architecture," Dillon says in his artist's notes.
"I take inspiration from both the city and countryside and apply my own style, intensifying colour with illustrative flair."  He's influenced by his adventures as an energetic boy who masterminded the digging of an underground fort almost two metres deep, complete with a studded roof that held the weight of someone standing on it. His affinity for those tropical plants that grew over his head in his bedroom later translated into a college horticultural technician diploma.
Dillon, who owns a retail and commercial outlet for landscape material and stone veneer with his mother, Pamela Dillon, is in a fertile period of his art-making. He has committed himself to finishing 100 paintings in the space of five years. It's partly in response to a request from his much-loved father, Jim Dillon, before he died of brain cancer in 2010. "I saw him everyday and took him on outings every week," he says. "He said I should paint.
"I had dabbled, but to turn it from a little hobby to something of substance; that to me was the passing of my father. That created a hole that needed to be filled." But it's also a target that keeps him pushing himself and looking forward."I'm goal oriented. It keeps me on track. Otherwise life takes over and it gives you reasons not to do it," he says, gazing at the painting underway on the easel in his bedroom.
It's No. 71, a rooftop view of a Paris cityscape. "I like this one, so far," he says. "The next phase is depth and shadow and texture.  "It's the last thing I see before I go to bed and the first thing I do when I get up.  "Now," he says, "I try to balance family and work and relationships while trying to work on that. I'm painting because I love it." Dillon's family moved 13 times before he was 13 years old.  His father, who was in retail and distribution, worked for different companies that moved him, his wife and three children to Winnipeg, Edmonton and other Canadian centres.  "I grew up playing in the grain elevators and fields" at the edge of Winnipeg, and watching the hour-long trains go past, says Dillon, who was born in Kitchener.
Pulling up stakes so often made him adaptable. "I think it gives you a great openness and ability to speak to anybody," he says. You also learn to live with less because you don't accumulate much.  As a result, "I am neat and organized."  They're qualities that show in his art and his home, even in his studio.  Growing up, he was a daredevil and "extremely accident-prone," he says with a laugh.  He'd walk across a man-made frozen lake in the spring just to hear the ice crack. He rode his dirt bike like a demon. Five children could fit into the underground fort that he built with friends (before it was dismantled). Spotted by his mother who held her breath, he once walked on the peak of a house under construction. "I got in trouble when I got down," he says.
"I was never inside if I could help it ... I have a very vivid memory of walking through the grain fields with my hands out and feeling the texture. I was very tactile. I remember looking at the skies and watching the clouds for hours." "We used to call him 'weather boy,'" says his mother, Pamela, a writer. He was also known as "adventure boy." "Even if there was a tornado, he'd be out on the porch and we'd have to call him in," she says.
He wasn't especially good at recalling facts in school and it didn't help that he changed schools so often. On the other hand, his spatial skills were excellent. "I can walk through buildings and remember the placement of things and clothing that people wear. I can estimate room structure in a building from the outside." He began drawing when he was about 11, experimenting first with illustrations for the book, "Treasure Island." He doodled a lot in class. Dillon's parents registered him in an art course when he was a teen in which he concentrated on still life. He began painting, developing features that would identify his landscapes as an adult - black lines that outline images and accentuate movement, and colours that are layered on afterward.
"I liked drawing from reality. I just didn't want it to look like reality," he says. "I tend to make it more abstract." He tried ambulance work as a high school co-op student and studied law and security at Conestoga College for a year, but decided the jobs were not for him. In 1994, he entered Niagara College to study horticulture and landscape design. Though the technical side of his studies "took a bit of the magic out of nature" for him, he found that the education helped his art.
"Just as a class in anatomy is beneficial to an artist who prefers to draw the human form, studying horticulture helped me to understand plant biology, growth trends and the conditions under which plants not only survive, but thrive," he writes on his website.  His background came in handy when his father and mother sold their Waterloo based office products, computer supplies and furniture business and bought a landscaping company, which became Stone Landscapes Inc. in Waterloo.  Dillon had worked with his father since he was 13. As an adult, he'd moved up the ladder of the office products business to become director of sales and marketing.
"There was father-son respect and we were friends," he says. Not long after they took over the Stone Landscapes business, his father became ill. Around the same time, Dillon was going through a divorce. He and his ex-wife have two children.  Dillon began painting in earnest after his father's death and his trip to Europe. "I was alone. I kept painting three or four hours," he says. "In a week's time, I painted 40 hours on top of my work. I'd paint into the night" and on weekends.  "Life is busy, but once you're there you can lose yourself. Time doesn't ever matter."
That feeling is intensified as he paints and listens to the sweeping, stylistic music of Norwegian composer, Thomas Bergersen and his music performed by "Two Steps from Hell." "It's like creative daydreaming," Dillon says. "By the end of the painting, you revisit the dream over and over again. I'd remember what I was thinking about. "A few times, it seems like the painting comes alive. You're so inside the painting."
Vivid paintings on the walls of a basement room show line work and colour representing heat and shadow. When viewers step close to the paintings, they can see remarkable detail. After his father died, Dillon was painting "to escape everything. I didn't care if people liked it or not." A fellow artist encouraged him to begin selling them, and he decided he could take photographs of the art and let them go. "The image is a reminder of what I was thinking."  He has hung paintings in the courthouse and places of business. He has sold about 47 pieces and has started offering prints. He'd like to complete enough paintings to have another show.
With the busy season approaching, Dillon's business, which employs 30 people in summer, takes a lot of his time and thought. But he's energized when people tell him about their connections to his work.  "Everyone tells me a story."  Gord McSevney can imagine himself in the middle of a storm of Dillon's creation.  The Cambridge lawyer, who also paints, decided on the spot to buy a painting after he saw Dillon's work at the law library.
"The one I have, it's a storm and I could just picture myself sitting on the porch of this little cabin out in the middle of the storm and being amazed by Mother Nature," McSevney says.  "We used to do it as kids; sit out on the porch and wait for the lightning to strike. That feeling that I had from those storms. . . I got from his painting."  Cambridge lawyer Todd Christensen was struck by a beach scene that reminded him of the years that he lived with his wife and children on Ohope Beach in New Zealand.  "We lived in the middle of a 12-kilometre long white sand beach with a smoking marine volcano on the horizon," he says.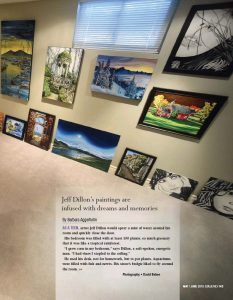 The Cambridge lawyer commissioned Dillon to paint a similar scene, but with landmarks that were reminiscent of the view from their former beach home. He gave it to his wife who placed it on the wall where the sun falls on it.  He also bought the painting that he first admired and donated it to a fundraiser.  "I would describe his style as abstract realism," Christensen says. His painting looks abstract when studied up close, but "when you step back and look at it from a little bit of a distance, it looks very realistic but with a layer of colour."  There was no natural light in the basement of the library in the old courthouse. But when Dillon's paintings were on the wall, the room was transformed, Malvern says. "It was like having windows down there."
Link to Original Article: https://www.pressreader.com/canada/grand-magazine/20150510/283261686404097