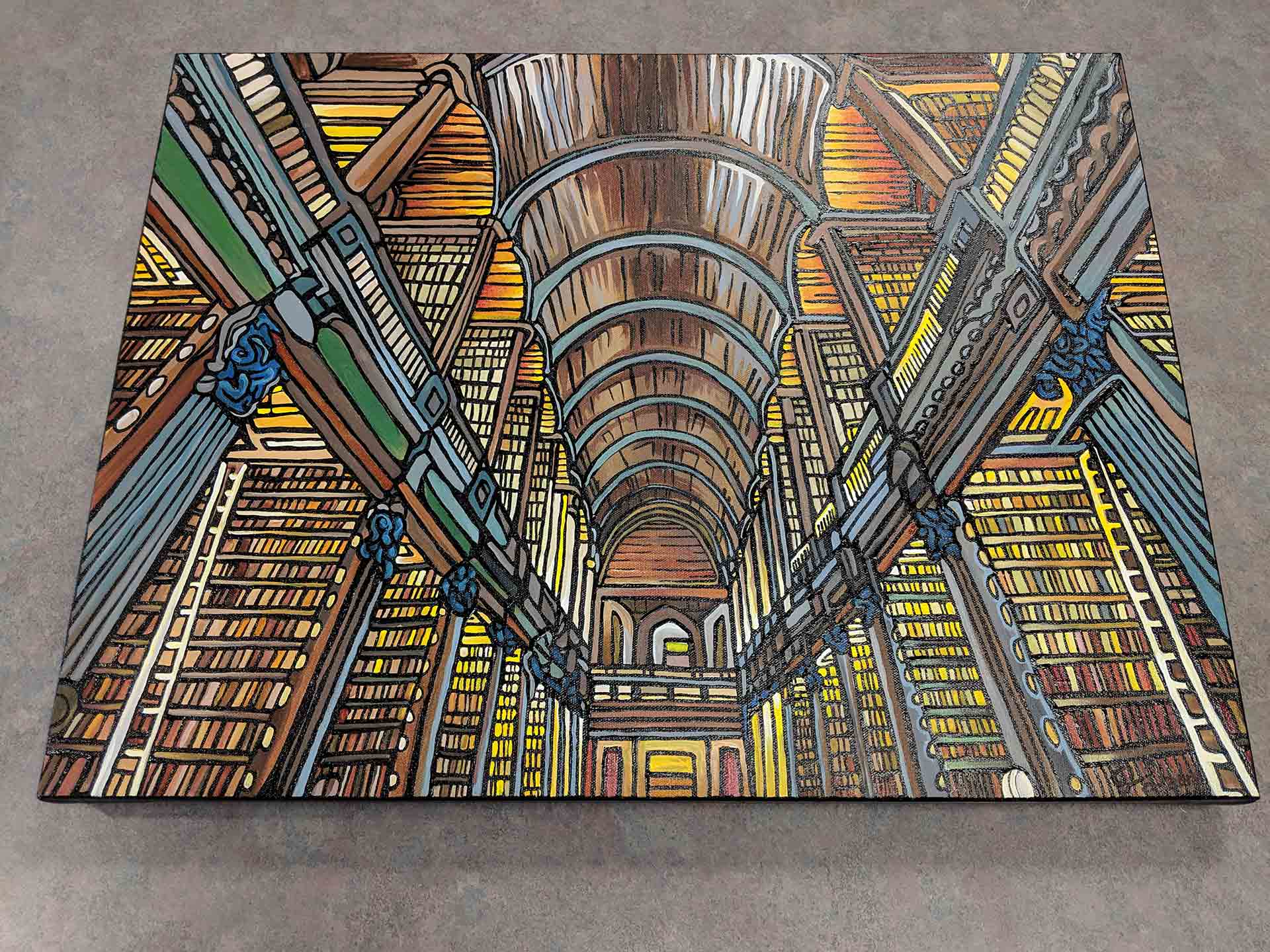 "Great Minds": An Interview with Jeff Dillon, Fine Arts
The New Quarterly'sFall 2018 Issue (#148) features Jeff Dillon's "#65 – Great Minds" on the cover. The painting beautifully depicts Trinity College in Dublin, Ireland.
Our Editor, Pamela Mulloy, was struck by Dillon's use of colour and was compelled to use this image for our upcoming issue. The stunning piece fits perfectly with the issue's theme: "The Weight of Story."
We were incredibly grateful when Dillon offered to donate the original painting forauctionin honour of the 2018 Wild Writers Literary Festival.
We spoke with Dillon to learn more about "Great Minds" and his artistic techniques and inspiration.
---
Jen Collins: As a charity organization, we appreciate any and all donations, but we admit it's thrilling to see the canvas housed in our office for the time being. What made you decide to donate your piece to us?
Jeff Dillon: I thought it would be a kind gesture to tie the original painting to the publication. I wanted to allow TNQ the freedom to pass along this piece, or use as they see fit. I have been lucky enough to visit Trinity College twice in my life and I'm always been taken back by the number of books and knowledge held in one room.
JC: "Great Minds" is your visual representation of Trinity College in Dublin. Browsing through your work, one can see the majority of your inspiration comes from nature. So, I'm curious, what was the inspiration behind this architectural design?   
JD: I really do like creating architectural work; painting buildings and cityscapes is that really satisfying opposite to nature. Architectural paintings allow me to concentrate on perception and three-dimensional depth. A library and the angle of which Trinity College is represented in this piece allowed me to do this effectively.
JC: You describe your work as heavily influenced by European and Canadian landscape artists. Which artists in particular are you influenced by? How do you incorporate their influence into your work, and what makes it your own?
JD: I am heavily influenced by artists in the Group of Seven and their use of bright colours in a simplistic style. They often put colours that are extreme opposites beside each other to create a dynamic effect.  I also am intrigued by a number of current artists around the world. This year plethora of art from many different styles is inspiring.
JC: We admire the success you have built through your passion for art. (Kudos on having your work featured on Stranger Than Fiction craft beer cans!) However, we know you've been working for a long time to get to this point. Can you share with us your most memorable rejection story and how you feel about it in hindsight?
JD: Rejection is ongoing as to our successes. I have been extremely persistent and passionate about working as often as possible at anytime, day or night. I actually don't have a memorable rejection story however, I have had a lot of rejections because I have been persistent at trying to create many opportunities. I still continue to try to create opportunities where I saw rejection in the past. Little bits of success are easier to come across when you're persistent.
JC:When I look at your work, I am struck by your vibrant and warm use of colour. What kind of tools and techniques do you use to create such vibrancy?
JD:I work with golden liquid acrylic paint which is somewhere between watercolour and oil; it comes out similar to honey. A lot of my work is painted with extremely small brushes using lots and lots of layers. Each piece is normally painted multiple times before completed which allows the colours to become extremely vibrant.
JC: I have artist friends and family and the constant quip I get when commenting on their pieces is: "it's not done yet." At what point do you know that you have completed your work?
JD: I must admit, it is difficult for me to know at times when a piece is done. In truth I don't think pieces are ever completely done, but there is a point where you have to put the brush down, take note of the things you have learned, and carry forward. I have learned that the artist is often harder on him or herself. Ultimately, I am happy that people find enjoyment in my work.
---
Interviewer's note: I am currently an undergraduate student at the University of Waterloo, on my Co-op term with TNQ. I will be with the team until the end of the year, and so far my time here has been filled with new experiences and learning opportunities. I met Jeff previously in our office when he came to drop off his work, and I was amazed by his maintained humility while having the ability to create such fine art. When Managing Editor, Emily Bednarz, suggested an interview with Jeff Dillon, I leaped at the opportunity to further learn about him.
Link to original article: https://tnq.ca/interview-with-jeff-dillon/