#131 – Spring is in the Air
Fine Art Limited Edition Prints By Jeff Dillon
Preview in AR
Scan QR code for AR preview on your device
Requires compatible Apple iOS 13 or Android with ARCore 1.9+
This cardinal has a juvenile quality to his demeanour, and a curious look in his eye. It's a windy spring day, and the brush strokes of cerulean blue sky communicate this movement and renewal. The cherry blossoms are glowing in magenta and violet pigments, and the cardinal contrasts them with his burning red plumage.
Original Size: 12″ x 12″
Jeff Dillon the Canadian Artist, inspired by the bold colours and brush strokes of Post-Impressionist Artists. His unique style focuses on capturing light, not through the detail of realism, but with gesture, illusion, shape and colour. He offers a personal and distinctive style to the world through his bold use of colours and lines, often symbolic images or subject matter. Objects in the paintings retain their realistic appearance yet have a vibrancy and fluidity about them, unique to his work. Jeff Dillon's new expression of Post-Impressionism is both beloved and revered in the Canadian and Global Contemporary Art World.
Limited Edition Prints are limited to an edition of 100. The accompanying Certificate of Authenticity is also hand-signed and numbered by the artist.
Original completed August 2018
Search words: Bird, Cardinal, Red, Green, Blue
SKU:

PR131-1:1
Limited Edition Prints are custom made when your order is created. Order can take 2 - 3 weeks to produce, but often ship sooner.
Canvas prints are pre-stretched frames and are ready to hang when you receive them. There is an additional framing option to include a wooden floater black frame at an additional price. You can select to add a frame from the menu. The sizes indicated are for the canvas print only (please add 1" to the dimension for the floater frame. Limited Edition Prints are custom made when your order is created.
These Limited Edition Prints are created on artist-selected canvas, with inks and finishes that Jeff Dillon has determined most closely capture the look of his original paintings and use the finest inks available. The high-quality canvas provides a consistent and smooth glossy printing surface that allows for an incredibly wide color gamut and deep rich blacks, while still offering the traditional look and feel of artist canvas. The semi-gloss finish ensures full colour saturation.
There is no embellished texture applied to the prints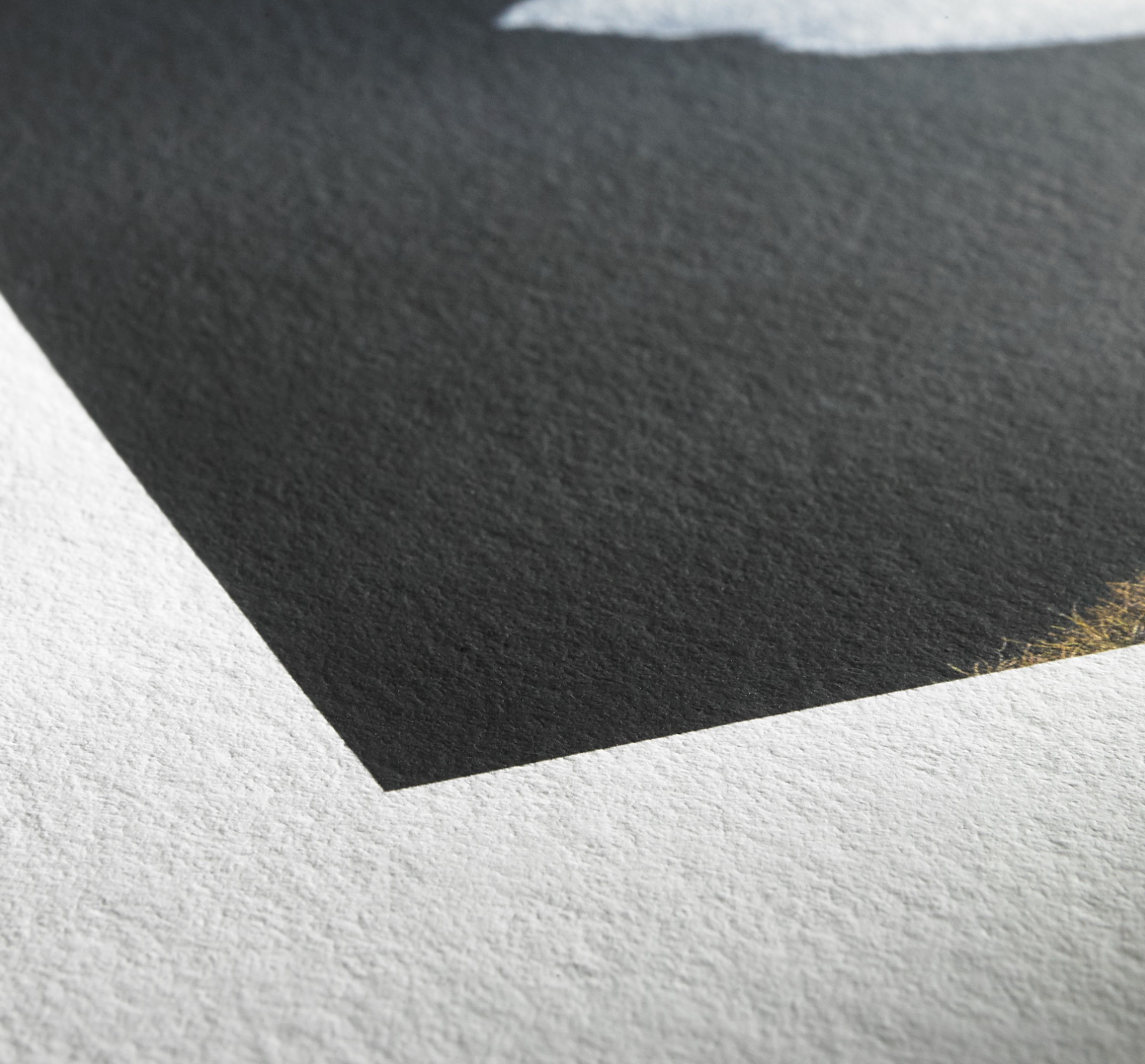 Giclée Museum Paper Hahnemühle Giclée Museum Paper is renowned for its ability to produce high-quality Giclée reproductions of fine art. This acid- and lignin-free paper has a distinctively soft feel and produces prints with stunning colours, deep blacks, and impressive contrast. The paper meets archival standards and is Certified Archival Paper, conforming to ISO 9706 museum quality for highest age resistance. The paper's premium matt coating meets the highest industry standards, while preserving the special touch and feel of genuine art paper. For best results, it is recommended to store the paper in an environment with a relative humidity of 35 to 65% and a temperature of 10 to 30° C. It is also important to handle printed material with care, as the surface of the paper is susceptible to abrasion,  and only archive grade tapes and glues for mounting and framing to ensure that the artwork on Hahnemhle Giclée Museum Paper will retain its beauty and quality for years to come.
Paper Specifications:
Matt FineArt paper is smooth, 308 gsm.
It's 100% cotton with a soft feel.
Its premium coating produces stunning prints.
Acid- and lignin-free, designed for Fine Art.
Ideal for preserving artwork over time.
Conforms to ISO 9706 museum quality.
Retain quality with recommended storage conditions.
Handle with care, susceptible to abrasion. Are capable of reading
Store in archive quality envelopes, folders, boxes.
Follow guidelines for long-lasting beauty and quality.
Includes a half inch white border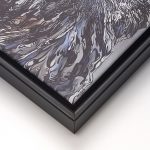 Canvas artist-selected canvas has stood the test of time. These timeless pieces offer the soft, woven texture that compliments almost any dcor. Canvas has a textured protective glossy finish. Protection and careful handling is required as surface of print can mark/scratch easily. The edges will be wrapped with a solid black colour and the frame depth is 1.75 inches. There is a option to get a Black Gloss Floater Frame for a additional costs which increase the outside dimension by 0.75 of an inch on all sides. Either way, all canvases will arrive ready to hang. (From of Nov 2019 to present)
Canvas Specifications:
Uniform Surface Structure (See PDF Document for details)
Waterfast
No Edge Cracking
65 / 35 Polyester / Cotton Blend
1:1 Weave Structure
Fast Drytime
17 mil, 370 g/m²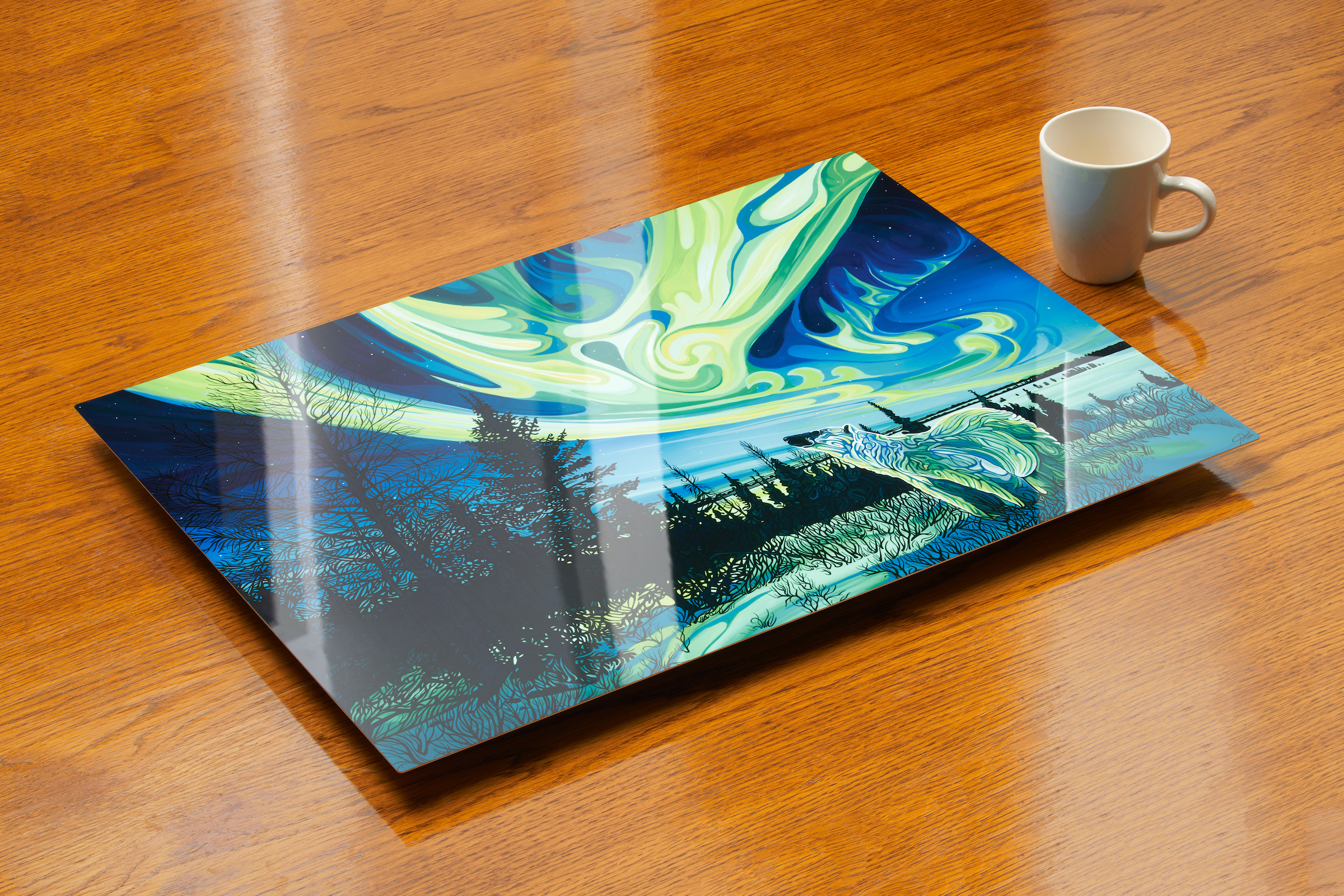 Gloss MetalIndoor & Outdoor ChromaLuxe® HD Metal Prints are the epitome of excellence in the world of reproductions. They are created with a unique process called dye-sublimation that infuses the image directly into the special coating on the aluminum panel. The result is a stunning piece of art with vivid colours, sharp details, and unmatched durability.
Gloss Metal Specifications:
ChromaLuxe® HD Metal prints: high gloss, durable, vibrant.
Lightweight and easy to hang/relocate with recessed float frame and wire cable.
Archival quality: withstands environmental factors, long-lasting.
Indoor/outdoor use: weather-resistant, UV-resistant, easy to clean, graffiti-resistant.
No need for glass: unique coating showcases prints.
Scratch-resistant, waterproof, touchable.
Flame-resistant: meets ASTM standards for safety.
Max size: 40 x 60" with .045″/1,14mm thickness (+3/4 inch for hidden frame).
Click here to learn more about Gloss Metal Prints
There are no refunds or exchanges on custom limited edition prints, cards or framing.
If your print arrives damaged in shipping, please email photos to

[email protected]

, once approved, a replacement will be sent to you right away at no additional charge.