#213 – Sprightly
Fine Art Limited Edition Prints By Jeff Dillon
Preview in AR
Scan QR code for AR preview on your device
Requires compatible Apple iOS 13 or Android with ARCore 1.9+
This piece is a unique size and composition, and was completed as a commission. This painting features the inky silhouette of a bluebird, it's wing and tail plumage facing the onlooker. The bird is positioned in a way that suggests it is about to take flight from the dainty branch it is perched on. The background is painted in soft, sweeping brush strokes to communicate flight and motion. Soft flowing linework allows your eye to travel the length of the canvas with ease. Soft blues and titanium white pigments provide a sense of calm and peace.
Original Size: 6" x 42"
Jeff Dillon the Canadian Artist, inspired by the bold colours and brush strokes of Post-Impressionist Artists. His unique style focuses on capturing light, not through the detail of realism, but with gesture, illusion, shape and colour. He offers a personal and distinctive style to the world through his bold use of colours and lines, often symbolic images or subject matter. Objects in the paintings retain their realistic appearance yet have a vibrancy and fluidity about them, unique to his work. Jeff Dillon's new expression of Post-Impressionism is both beloved and revered in the Canadian and Global Contemporary Art World.
Limited Edition Prints are limited to an edition of 100. The accompanying Certificate of Authenticity is also hand-signed and numbered by the artist.
Original completed November 2021
Search words: Bird, Blue, Branch, Grey
SKU:

PR213-1:7
Categories: PRINTS, ALL LIMITED EDITION PRINTS, FLIGHT
Tags: 1:7 (Z), Vertical, 2021
Limited Edition Prints are custom made when your order is created. Order can take 2 - 3 weeks to produce, but often ship sooner.
Canvas prints are pre-stretched frames and are ready to hang when you receive them. There is an additional framing option to include a wooden floater black frame at an additional price. You can select to add a frame from the menu. The sizes indicated are for the canvas print only (please add 1" to the dimension for the floater frame. Limited Edition Prints are custom made when your order is created.
These Limited Edition Prints are created on artist-selected canvas, with inks and finishes that Jeff Dillon has determined most closely capture the look of his original paintings and use the finest inks available. The high-quality canvas provides a consistent and smooth glossy printing surface that allows for an incredibly wide color gamut and deep rich blacks, while still offering the traditional look and feel of artist canvas. The semi-gloss finish ensures full colour saturation.
There is no embellished texture applied to the prints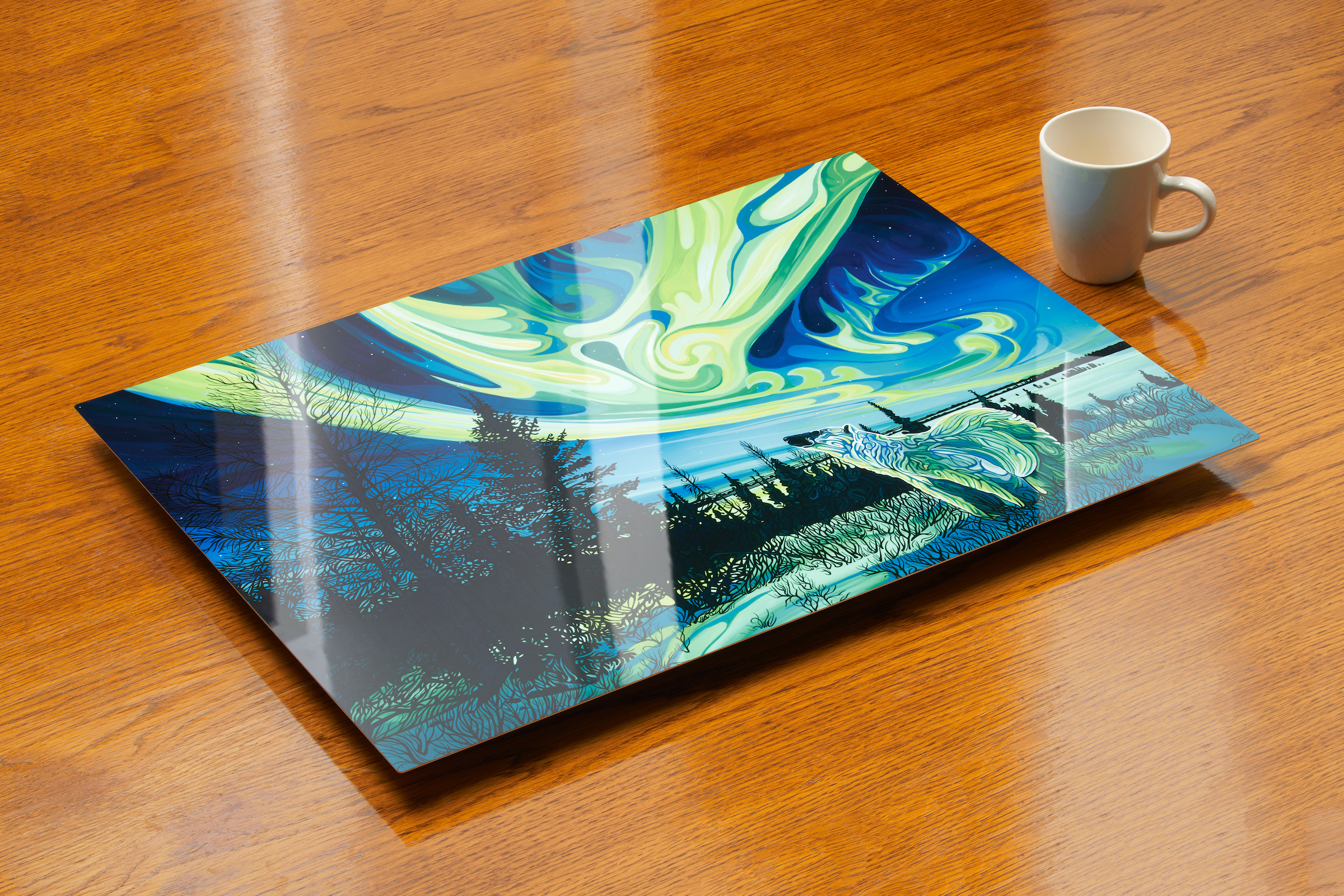 Gloss Metal Indoor & Outdoor ChromaLuxe® HD Metal Prints are the epitome of excellence in the world of reproductions. They are created with a unique process called dye-sublimation that infuses the image directly into the special coating on the aluminum panel. The result is a stunning piece of art with vivid colours, sharp details, and unmatched durability.
Gloss Metal Specifications:
ChromaLuxe® HD Metal prints: high gloss, durable, vibrant.
Lightweight and easy to hang/relocate with recessed float frame and wire cable.
Archival quality: withstands environmental factors, long-lasting.
Indoor/outdoor use: weather-resistant, UV-resistant, easy to clean, graffiti-resistant.
No need for glass: unique coating showcases prints.
Scratch-resistant, waterproof, touchable.
Flame-resistant: meets ASTM standards for safety.
Max size: 40" x 60" with .045″/1,14mm thickness (+3/4 inch for hidden frame).
Click here to learn more about Gloss Metal Prints
Canvas artist-selected canvas has stood the test of time. These timeless pieces offer the soft, woven texture that compliments almost any décor. Canvas has a textured protective glossy finish. Protection and careful handling is required as surface of print can mark/scratch easily. The edges will be wrapped with a solid black colour and the frame depth is 1.75 inches. There is a option to get a Black Gloss Floater Frame for a additional costs which increase the outside dimension by 0.75 of an inch on all sides. Either way, all canvases will arrive ready to hang. (From of Nov 2019 to present)
Canvas Specifications:
Uniform Surface Structure (See PDF Document for details)
Waterfast
No Edge Cracking
65 / 35 Polyester / Cotton Blend
1:1 Weave Structure
Fast Drytime
17 mil, 370 g/m²
Fine Art Paper My fine art prints use pigment-based ink on bright satin (some gloss) white cellulose based, latex saturated, wet strength paper quality and are of the highest quality. Protection and careful handling is required as surface of print can mark/scratch easily. This print will be rolled and shipped in tubes for safety. They come with a half inch white border, and are ready for framing.
(From of July 2022 to present)
Paper Specifications:
95 bright white
Thickness: 10 mil
Wet-strength and water resistant with no lamination required
Manufactured using Post Consumer Waste (PCW) of 17 to 22%
PVC and phalate free
FSC Certified
Durable for indoor and temporary outdoor use
There are no refunds or exchanges on custom limited edition prints, cards or framing.
If your print arrives damaged in shipping, please email photos to

[email protected]

, once approved, a replacement will be sent to you right away at no additional charge.